Register Today for the House Institute Foundation's Virtual NF2 Symposium!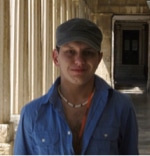 This symposium is generously sponsored by Charles M. Seigel in heartfelt memory of NF2 patient, Paul Bruder (1985-2019). You can read more about Paul Bruder and his love for life here.
In partnership with Children's Tumor Foundation and PIH.
Join House Institute Foundation faculty and guest experts as they share about NF2 genetics, treatment options, solutions to hearing loss, current research, and future therapies. We will also be hearing from a panel of NF2 patients.
This online educational event is FREE and designed for NF2 patients, their family, and caregivers. The event is also targeted toward medical professionals seeking to learn more about this rare genetic disease. 4.5 CE credits are available for nurses. Physical therapists, occupational therapists, and speech therapists are also encouraged to attend.
We hope you will join us!
Date & Time
November 13th from 9 AM – 2:30 PM PDT
Schedule
9:00 – 9:15: Welcome
9:15- 9:35 AM: Introduction to NF2
9:35 – 10:00 AM: Genetics Discussion
10:00 – 10:10 AM History of NF2 Treatments
10:10 – 10:55 AM: Treatment Options
10:55- 11:15 AM: Break
11:15 – 12:00 PM: Hearing Loss and Solutions
12:00 – 12:30 Lunch Break
12:30 – 1:30 PM: Patient Perspectives: A Panel Discussion
1:30 – 2:00 PM: Research Opportunities and Clinical Trials
2:00 – 2:15 PM: Concluding Remarks
2:15 – 2:30 PM: Q&A
Presenters
Kimberly Childers, MS, LCGC
Gregory Lekovic, MD
Kevin Peng, MD
Daniel Roberts, MD
William Slattery, MD
Naveed Wagle, MD
Affiliates