By Erin O'Donnell, Associate Director of Education and Global Hearing Health
What does it take to run a successful hearing aids dispensary? Or several? The House Institute's Hearing Aid Center Director, Donna Gelnett, uniquely combines her business acumen with her background as a trained audiologist and researcher. The result is an adept leader who balances her passion for her staff with her vision to expand hearing aid services and locations to meet the growing need in Southern California and beyond. I sat down with Donna to learn about what energizes her day in and day out – both in the workplace and in her adventurous lifestyle.
What are your title and responsibilities?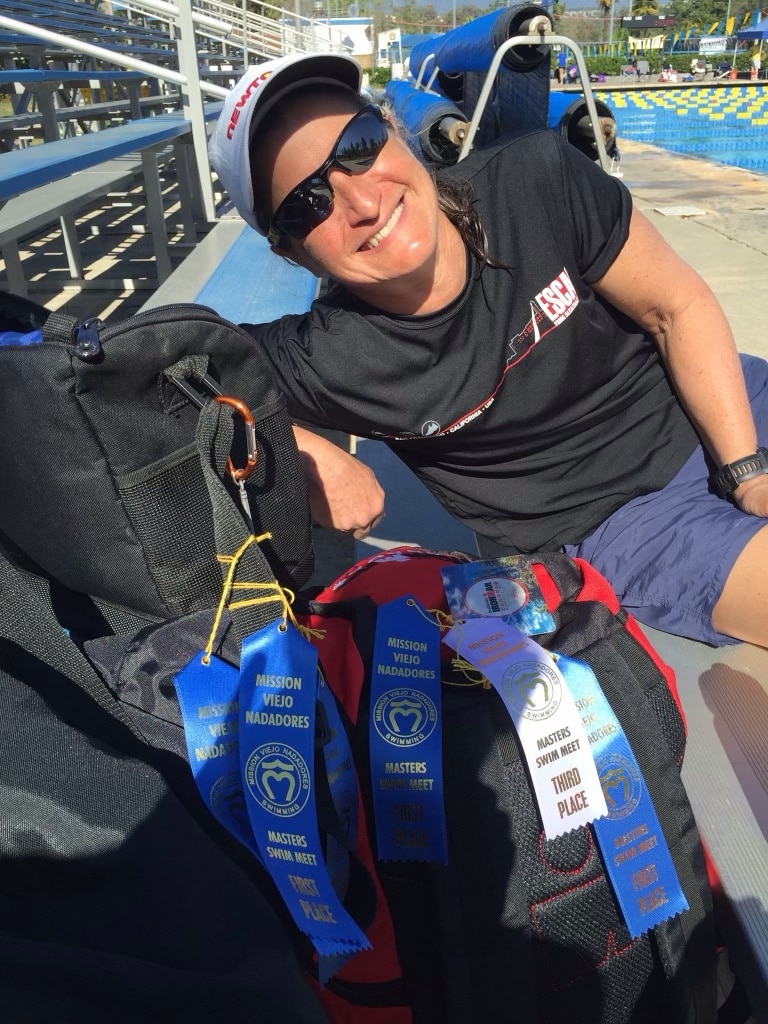 I am the Director of the House Institute Hearing Aid Centers, which means managing and overseeing all aspects of the dispensary, including supporting staff, hiring, training, any type of documentation, and what happens behind the scenes with billing and insurance as well as negotiating with manufacturers. I am always looking for ways to grow the business, to assess our marketing needs, to make sure we are reaching people with our strategy and initiatives.
How did you transition into leadership?
By education, I am an audiologist. I started out working in clinics seeing patients. I worked at the VA a long time ago and I really liked hearing aids and the electrophysiology part. I did research for a while, and then moved into the clinic and began fitting lots of hearing aids and then running the hearing aids programs. I was the one most interested in this and so I took it on! I was then asked to oversee the student program—bringing in students that I could train. Quickly I fell into a leadership role. I started majoring in business before I switched to audiology, so the business piece has always felt natural to me. Every position has been some type of leadership role from the very beginning. It is in my blood to be in a position like this!
Last week was World Hearing Day and the theme was Hearing Care for All. What does Hearing Care for All mean to you?
Hearing Care for All to me means that everybody has access to hearing aids, whether you have 2 cents or 2 billion. The same applies for people who need medical or surgical interventions related to hearing. A lot of people don't understand how important their hearing is. If you were to ask them if they would rather lose their sight or hearing, they say hearing. But they don't realize how difficult and isolating life is when you don't hear well. People need to be educated about this and have access to good quality solutions, not any $200 assistive device off the internet. People can hear so much better if they get fitted properly with what they need. It's not always a financial issue or barrier. In countries with universal health care that covers the cost of hearing aids, the penetration rate of people wearing hearing aids is not that different to that of the United States. So, in my mind, step one is the educational piece: getting rid of the stigma around wearing hearing aids which associates hearing aids with being old or infirm. We all wear glasses with less of an issue, right?
How long have you been working at the House Institute and where would you like to see this program go?
I started mid-October 2020, so only 5 months. However, I was here long ago. I did my Clinical Fellowship at the House Institute and stayed on for 4 years doing hearing aid research. There has been a huge hiatus, but I am back! Currently, we are 5 clinics, and I would love to see us grow that number with clinics all over Southern California, possibly even Northern California, and then branching out into other states. There is need. Our current clinics are doing very well, and I would love to expand and build a dynamic team that can serve hundreds of thousands of patients. Or more! Why not millions? To do this, we need to make sure that we are operating in the right locations with easy access and to be aware of traffic patterns, the demographics of our patients, and where they are located. We need to use our marketing to reach out to the community to let them know our services are here.
What do you value most about your work to date?
What I value most is my interaction with the staff. I love team building. It always seems like a clichéd response, but it really is a passion of mine. When I think of what I miss the most about former jobs, it is always the people. I still stay in contact with people I worked with 10 years ago.
What professional achievement are you most proud of?
When I worked at HearUSA we grew it hugely and Southern California became the most profitable and successful region in the whole country. It was a great team and we had so much fun. We went from 15 offices to 39! At Providence, the pediatric department was very small and losing money when I got there. By the time I left we had 13 clinicians and were thriving. I also started the cochlear implant program there. The program is now well known and does at least 5 surgeries a month. I really look forward to continuing to build the House Institute Dispensaries.
What research project or area of research stands out for you?
Manufacturers do research with their new technology. Most clinicians take those white papers with a grain of salt since the studies are conducted by the manufacturer and there is going to be a bias. In the past we have talked about coming up with a type of evaluation for testing new technology. In good science, research projects are repeatable, so being an independent group, we could evaluate products and add credibility to the white paper. I would love for our staff to begin fitting patients and engaging in field trials – giving feedback to manufacturers. I'd also like to do more research with the end user. This could look like exploring how the product is impacting a patient's quality of life.
What effect do you hope telling your story will have on others?
We have a fantastic team. Through the process of creating new vision and mission statements, it has become clear that we really have an amazing team with a heart for their patients and for what they do. It is very special! I want people to know this and I hope that people come to the dispensary and refer others to us if they have family or friends struggling with their hearing. Yes, part of our business is about selling a hearing aid, but I truly believe that the focus of our staff and our team is on what is in the best interest of our patients and how we can help them hear better and improve their lives.
What do you like to do outside of work?
I do triathlons! I like Iron Man – that is my preference. I spend a lot of time training for that. I have one scheduled for this year, but it will probably get canceled. I also love to scuba dive. I used to say I work to support my diving habit. Now I say I work to support my triathlon and diving habits. I was supposed to go to the Philippines with a group of eight of my friends, but we have had to move the trip. Hopefully, we will get to go in 2022. Every other year we try to do a big scuba trip!